10 Best Patio Gazebos Canopies And Party Tents 2020
I hope that all the following information about products and materials helps you choose the right covering for your patio, yard, or deck area. I have picked out the 10 best patios gazebos canopies and party tents, as they appear at this time.
Photo above by Randy Fath on Unsplash
This page contains amazon affiliate marketing links. We may get paid a commission on the sale of a product or service recommended here. This does not change your price, you pay what Amazon advertises.
Whenever you read this, and click through to Amazon, you will see the latest prices, sales, Prime Day deals, and financing options available to you.
I'm updating this post by putting in some fabulous family tents that attach onto the back of your SUV. Because it's summer! 
Gazebos come in both hard tops and soft tops. Side panels and extra mosquito netting are options too. You can tailor your purchase for your
unique needs and preferences, and your environmental region.
Best Online Shopping Guide is a participant in the Amazon Services LLC Associates Program, an affiliate advertising program designed to provide a means for sites to earn advertising fees by advertising and linking (AL= Ad Link) to Amazon.com. As an Amazon Associate I earn from qualifying purchases.
Most of these come with an "expert assembly" purchase offer. This is handy for those without time, help, or tools.
4 Above AL
Quictent 10'x8′ Party Wedding Tent Outdoor Gazebo Trapezoid Canopy with Fully Enclosed Black Mesh Side Wall
AL
Ideal for placing anywhere on your deck/patio/yard space. 
Sunjoy 12′ x 10′ Sonoma Wicker Gazebo, Large, Brown/Gold Trim
AL
The 4-side mosquito netting and vented roof netting and bonus corner panels are included with the gazebo.

Additional privacy panels can be purchased. Tracking for those, ground stakes and a light hook are included.
The steel is powdered, therefore rust proof.
Heavy Duty Wedding Gazebo Canopy Carport
AL
This multi-use walled covering is 32 feet long. It can house a wedding party, any party, or cars.
These are its main features:
High quality, rust & corrosion resistant galvanized steel is used for the framework

10 removable window-style sidewalls offer flexibility of use, wind block, or ventilation

2 removable front back doors allow easy access and traffic flow

Heavy-duty water Polyethylene will keep out the rain on your special day

The top cover has seams that are hot-sealed, and since Feb. 5, 2018, waterproof

High strength metal joint fittings make the structure secure

5 bags included provide excellent storage

Easy and fast to set up, suitable for all kinds of events

All necessary hardware included, but must be secured against wind
40'x20′ PVC Party Tent – Heavy Duty Wedding Canopy Gazebo Carport – with Storage Bags 
AL
Outsunny 10′ x 10′ Steel and Polycarbonate Hardtop Gazebo Canopy Cover with Mesh Net Curtains
AL
This gazebo is hard topped and comes with mosquito netting and privacy curtains. Those curtains will allow for the air flow of your cool summer evenings however.
The side panels are water and UV resistant and will retain their looks for years.
The powdered aluminum structure is durable, and will not rust.
After you've cooked your favorite BB! meal, you and your guests or family can enjoy it out of the reach of insects that love your food. And the ones for whom you are the food! 🙂 
One buyer used hooks fastened into his deck to secure the zipper ends of the side panels. It seems you need this for windy days.
Despite the hard top, rain can get in. It's good to have furniture covers or tarps handy. (Yet another buyer says theirs does not leak at all.)
Assembly requires two people but sounds easier with three or four. This is a permanent structure. But, the mention of "steel" in the product title seems to be an error.
There is a hook in the eave where you can hang a light, or a fan. That is a bonus for those hottest summer days.
Sunjoy 12′ x 10′ Cabin-Style Soft Top Gazebo with Mosquito Netting
AL
This soft top canopy is constructed with powdered steel framework. It is the best material for durability and will not rust.
The mosquito/bug netting provides comfort from the worry of something like West Nile Virus, the prevalence of which varies from year to year.
The black and tan color scheme offers easy matching options with your patio furniture choices, and for added cushions, tablecloths and tableware.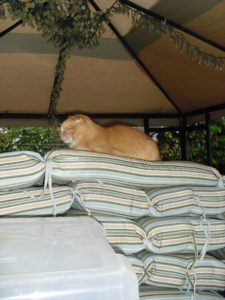 The above shown is a similar canopy to the one I'm presenting today. It has been in this yard for well over ten years, with no problems. Under it, my friends have had a ping pong table for their recreation.
Here, it is being used for shelter, and their patio cushions have been collected for the duration of the the duration of the storm. Spunky, their cat (now deceased 🙁 ) has found respite too, for a nap. His ears are back, showing how disgruntled he was.
The strings of patio lights are well placed into the eave of this canopy. This ping pong table was handy for parties too!
Sonoma Canopy Gazebo, 10′ x 10′ Soft-Top Garden Tent
AL
This is a slightly smaller version of the canopy immediately above. Yet, it still holds a round dining table and four arm chairs easily.
It has mosquito netting and shade panels, for your needs and comfort.
It is 10′ x 10′ and can fit on many decks or a large balcony.
This size canopy may fit on your boat dock too!
Here is one way that could look.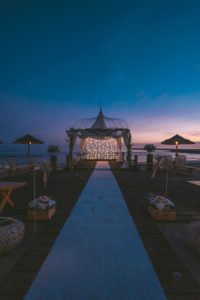 Eurmax 10×15 Ft Premium Ez Pop up Canopy – Instant Canopies
AL
Tent waterproofed

Powdered metal frames

Thumb button release levers on framework

Perfect for trade shows, picnics, outdoor parties – portable!

Choose your favorite color from 19

Three height positions

CPAI-84 fire retardant certificated 500D polyester PU coated to block 99% UV rays

Steel rings for roping the canopy frame down

Handy waterproof roller bag (you can leave the canopy top on!)
SORARA Grill Gazebo
Soft Top Gazebo with Steel Frame
AL
A meaningful counter-top space and a condiment/tableware basket complete this sturdy shelter for your grilled meals.
Your family and friends won't be disappointed if there is unexpected rain showers or a hot sun. You can BBQ under your well ventilated canopy and serve your mouth watering grilled treats to your happy fans!
Assembly is meant to be permanent. One buyer offered "I just used deck screws on mine. May want to add washers for extra stability. There are holes at the base".
There is a similar looking gazebo for twice the price, but this one gets the top reviews.
It is sturdy and heavy and does not necessarily need to be anchored down.
It may fit over your deck right up to your doorway.
It may shelter your current outdoor kitchen, or help you choose a grill and configure your cooking area, once installed.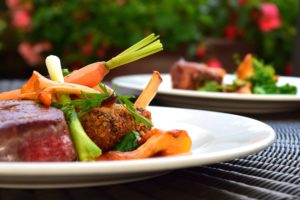 Quictent 12×12 ft Garden Gazebo Canopy Pergola
100% Waterproof
AL
The netting, and solid side panels are double stitched.  Also UV resistant and waterproof, they offer extended durability.
The roof is coated polyester, and is waterproof.
Stakes for securing the structure are included. But for winds over 60 mph, it is recommended to take down the canopy and netting.
The solid side panels can be easily unstrapped, and zippered down for a good sunshade or privacy.
The interior will hold a four to six seating arrangement, depending on what size table you might choose.
The quality and customer service has been given five star reviews.
The framework is powdered steel, which I write bout in my article, 10 Best Patio Sets With Fire Pit Tables 2019, at the bottom of the page.
Coolaroo Aurora Pergola, Backyard or Patio Shade Pergola, Light Filtering 90% UV Block, (9'8″ X 9'8″), Terracotta
AL
This is one way to enjoy your outdoor dining during an evening, or a super hot summer lunchtime. You won't have to cancel your fun plans and disappoint family or friends.
The fabric canopy can be removed and stored for the winter.  It is described as good thick material. It comes with a five year warranty against UV damage. It provides a 90% UV block protecting those below it.
The fabric is described as "water resistant", although water will start to drip through if rain is prolonged. The canopy is retractable.
The frame is aluminum. You may need concrete screws for it, for those windy times!
This unit may take up to three hours to assemble. Buyers remarked the instructions aren't the best, yet it is easy to figure out.
With this canopy you can enjoy your patio area. The kids can play outside when it's hot and sunny. A table for toys and games will keep them busy for hours.
With a side shade like the one below you have protection from both sun and wind.
Accessories!
Here are some wonderful accessories for your gazebo-canopy-pergola choice.
Haven't you treasured those long evenings that turn into late nights when you and your partner/friends/kids sit talking into the wee hours? Where you suddenly realize "It's two am!"  You need these beautiful patio lights, solar powered – no worries about wiring!
Foxlux Solar String Lights – 48FT LED Outdoor String Light – Shatterproof, Waterproof Pergola Lights
AL
Maybe you'd prefer something like these:
48ft Patio Lights Heavy Duty Bistro/Cafe Lights for Backyard and Deck
AL
If you like to dance on your patio maybe you'd like these!
VAVOFO 48FT Warm White & Color Changing Cafe String Lights, Dimmable
AL
And depending on your area of the country, you may love one of these!
Patio Mist Fan – Outdoor Mist Fan
AL
There are so many options for you. From the permanently anchored pergola to the portable canopy and everything in between, you will find the perfect item for your yard.
Your city home, your country cottage, or even outside your RV, you can have the perfect shelter for lounging or cooking outside.
Best Online Shopping Guide is a participant in the Amazon Services LLC Associates Program, an affiliate advertising program designed to provide a means for sites to earn advertising fees by advertising and linking to Amazon.com. As an Amazon Associate I earn from qualifying purchases.
Here is an example of a canopy outside an RV.