Image by Shafin Al Asad Protic from Pixabay
7 Best Cheapest Desktop Computer Deals Under $200
How to find the best desktop computer buy for a limited desk area you want to reconfigure?
What is the best desktop computer home use, and college too?
It depends whether you want the tiniest, the most stylish, and where you want to put it.
I found some fabulous buys – the cheapest desktop computer deals, all under two hundred dollars!
I wanted the chosen computer to be as tiny as possible. One you can put in your purse, messenger bag, a back pack pouch, or carry on tote, and one that will keep your load as light as possible.
I also wanted one with an ethernet port, for streaming movies and television shows, and Youtube videos. Sometimes that's a better experience than relying on wifi.
This page contains affiliate marketing links. We may get paid a commission on the sale of a product or service recommended here. This does not change your price, you pay what the vendor advertises.

First, here's the list of the 7 best mini computers:


Best Online Shopping Guide is a participant in the Amazon Services LLC Associates Program, an affiliate advertising program designed to provide a means for sites to earn advertising fees by advertising and linking (AL= Ad Link) to Amazon.com. As an Amazon Associate I earn from qualifying purchases.
Here is your Buyers Guide
CHUWI Lark Box Mini PC 4K Tiniest Windows 10 Desktop Computer with Intel J4115 Quad Core Processor (Up to 2.5GHz) 6GB LPDDR4 128GB eMMC, 4K Ultra-HD Streaming, VESA Mount, 2xUSB 3.0 Dual Wi-Fi, BT5.1
AL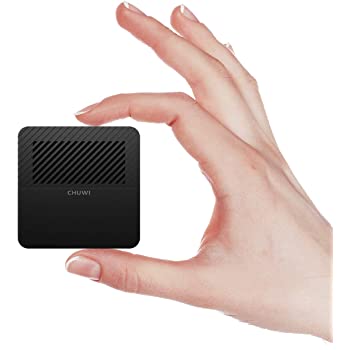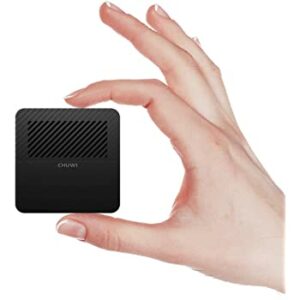 This box can be used as a media streamer and a backup computer connected to your tv. It will handle any
streaming service without problems, such as HBO Max, Slingtv, Hulu, Netflix, and all the other regulars.
You will be able to get 124 to over 200 mbps speeds, although that may depend where the box is placed. It
can also accommodate, for instance, a graphic design job using Adobe Illustrator. If you are to use one
program at a time, there will be no difficulties with it. As is normal for these specs, the write speeds are not
the best compared to SSD drives. But you can add an m.2 drive. Here is one example:
AL
GUZILA Mini PC, Intel Celeron J4125 Processor(up to 2.7GHz) Windows 10 Pro Mini Desktop Computer with 8GB DDR4/120GB ROM, Support Triple Display, Gigabit Ethernet, Dual Band Wi-Fi, Bluetooth 4.2,4K HD
AL
On this device:
The CPU is an Intel Celeron J4125(4M cache)

The CPU Cores and Threads are 4Cores and 4 Threads

The Base Frequency is 2GHz and the Burst Frequency is 2.7GHz

The GPU is an Intel 9.5th Gen UHD Graphics 600

Its Frequency is 0.25GHz,and the Turbo is 0.75GHz

The RAM is 8GB LPDDR4 ROM: 120GB eMMC

WiFi: Dual band WiFi 802.11a/b/g/n/ac

Bluetooth: BT4.2

LAN: Gigabit Ethernet

Operating System:Windows 10 Pro 64-bit

Expand Storage: Maximum for Micro SD up to 128GB or Mechanical Hard Disk 2.5 inch 2TB
Mini PC, Windows 10 Pro Beelink T34 8G RAM 128GB SSD with Intel Celeron N3450 Processor, 2.4G/5G Dual WiFi/Gigabit Ethernet/ 4K HD/Dual HDMI/USB 3.0/BT-4.0, Support Auto Power On
AL
This device features a built-in 128GB M.2 SSD.
You can add an SD card supporting up to 128GB, and mobile hard disk via USB 3.0 interface up to 2TB.
Suitable for gaming, office use, or a home desktop computer.
It is easy to use. If you're not familiar with these mini computers – well, it is "just" a computer, with nothing difficult about it.
Mini PC, Portable Windows 10 Pro Micro Desktop Computer, Intel Apollo Lake Celeron N3450 (up to 2.2GHz) Quad-core CPU, 8G Ram, 64G eMMC, 128G SSD, WiFi, BT 4.0, 4K HDMI Output, Gigabit Ethernet Port
AL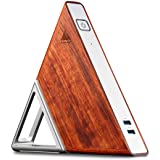 This is my personal favorite because of the design. If you're tired of black box-like items, this will spiffy up the decor around your work station!
This device is pretty amazing for the price. It has all the ports you need to accommodate your entertainment center.
You will have it up and operational within a few minutes of the un-boxing.
Windows 10 does come pre installed but in new administrator mode. Here is a YouTube video on how to add a password and switch to a user mode.
The unit comes with a good amount of memory and a nice processor.
The on board C drive is small at only 64GB but an additional D drive provides 128GB.
This is tablet sized amounts of memory. It won't accommodate a ton of apps and games, but it has everything needed to view all of your favorite major streaming services with more room left over.
It is quick and has no problems with connecting to the internet. Streaming, email, web browsing all work just as you would expect.
The  bluetooth or usb keyboard and mouse  is not included. 
Are you looking for a small handy device to add to an existing home entertainment system? I think this one is perfect.
Mini PC, Windows 10 Pro 8GB DDR3 120GB eMMC Mini Computer,Intel Atom z8350 up to 1.9 GHz, Dual Display up to 4K HD,Bluetooth 4.2,Gigabit LAN,Dual Band WiFi
AL
Windows 10 Pro OS preinstalled, equipped with Intel Atom Z8350 processor and Intel HD graphics 400

Support an additional 2.5 inch SSD inside / SD card / USB hard drive for more storage

Support dual screen with VGA and HDMI outputs . Dual WiFi, Bluetooth 4.2, USB3.0

Super mini but very useful like a regular computer, works well for personal office, website search, video watching, social utility, etc.

Easy to install, comes with a VESA mount to place it where you want it.
Mini Computer Stick with Intel Atom x5-Z8350 & Pre-Installed Windows 10 Pro, 8GB DDR3L 120GB ROM Micro PC Stick Support 4K HD, Bluetooth 4.2 and Dual Band WiFi 2.4G/5.0G
AL
As I said above, I just started looking at these tiny computers recently, and I could hardly believe this one is a real computer!
This device is:
Equipped with 120 GB of ROM and 8 GB for RAM. Plenty enough to run Windows 10 pro and 4K HD video

Easily expandable storage with a Micro SD card up to 128GB

Equipped with one USB 3.0 and one USB 2.0 port for easy connection to other devices

Loaded with 64-bit Windows 10 Pro OS pre-installed and activated automatically –  setting up involves simply following the prompts

Workable like any basic PC for web surfing, watching movies, and word processing 

Powered by Intel Atom x5-Z8350 Quad Core processor (2M Cache, 1.44GHz base frequency, max up to 1.92GHz) and Intel HD graphics, 4K HD video playback gives you a superior viewing experience

Equipped with built in 2.4G/ 5G Dual Band WiFi, providing a consistent connection and higher speed

 T6 silent mini computer sticks support Bluetooth 4.2

Can be used to connect to all peripherals like your keyboard, mouse 

Support power failure Auto-on:

Step 1: Power up your MINI PC and press "DEL" to enter BIOS.

Step 2: Inside BIOS menu, select the boot option to find a setting named "automatic power on" and enable this setting.
There is a variety of these stick-type computers available.
Click the Buy button, to see all of them!
Mini PC, Fanless Intel Celeron N3350 Processor (Up to 2.4GHz) 6GB DDR4/ 64GB eMMC Windows 10 Mini Desktop Computer 2.4G/5G Dual WiFi, HDMI+VGA 4K Dual-Screen Display, BT4.2, USB x4
AL
Can you picture traveling with just an HDMI cable, and a combined keyboard/trackpad, to a hotel or an Air B&B, and you will have a full PC to watch whatever you want to? 
At home or away, you will simply plug the hdmi cable into the back of your TV, plug in it's power supply, and voila! You have your pc up and running.
A handy harness is included, for attaching the mini pc to the back of the tv.
It is recommended to clean out all the bloatware you can out of windows 10, and this will provide you with about 35GB of space leftover, to augment its small memory capacity.
This product will sustain having several tabs open at once, with good streaming on one or more.  It has no fan and the drive is solid state, so there are no moving parts to create friction and therefore heat.
Don't you just love these options?
You can click to Amazon from any of the Buy buttons above, to view the latest prices, financing deals, and more details about these handy small devices.
Related material:
10 Best Cool Electronic Gadgets Teens Parents And All Will Love For Gifts 2020