10 Best Rated Robotic Vacuum Cleaners 2020
Here, I'm presenting the 10 best robotic vacuum cleaners, 2021.
These devices are also called "botvacs". When I say best rated, I am gleaning from the 3-4 Star and up reviews given by Amazon customers, at this time of writing.
All products get occasional negative reviews, and I always read them. Why?
To see if the reviewers tried to use the customer service, and how that worked for them.
Most Amazon sellers will bend over backwards to fix a problem. So I go with the three to four + reviewers, regardless of a few bad accounts.
Reading reviews is good for getting the useful information. For example, one customer complained that the vacuum would only run for a small amount of time. Turned out they had it set on "one room" instead of "whole house".
Take the time when you get your robot vacuum to program it and allow it to map your home. With a unit that doesn't program, review all the settings and adjust them for your home.
You only have to do this once, even if it takes hours. Still beats hand vacuuming all the time, yes?
Which Of These Smart Wi-Fi Connected Robots Will Clean Your Home?
When you buy the best robotic vacuum cleaner for your home, you will have reviewed:
The size of your home – how many stories or areas need cleaning?
Do you have furry pets? How many, what types of hair, and do they shed seasonally or year round?
How much can you spend? Do you need financing?
Do you want to run your vacuum from your smart phone? Do you want the convenience of controlling your house cleaning from the office, when you unexpectedly find out guests are arriving?

ONE – MIELE Scout RX2 With Home Vision
This expensive vacuum gets praise firstly for being so quiet. That comes up frequently in the reviews.
The other aspect of this machine is the Home Vision – you can see what's going on in your home when you're away! Encrypted transmission to your smart phone gives you high security.
Reviewers mention efficient hair removal  from several all year round shedding dogs. That is certainly appealing.
This reminds me of my mom, who was allergic to dogs, but couldn't live without them. She had four Basset hounds at one point, and she vacuumed every day!
She had an Electrolux canister vacuum, and she even vacuumed the dogs with the brush accessory tool. (They loved the attention).
She used Eucalyptus oil drops on the filter, per the advice of her doctor, to help with the breathing issues.
My goodness she would have loved this device!
The .4 liter dust container is easy to empty. It has an air filter also, another bonus.
This vacuum can adjust automatically to carpet cleaning when it moves off the hard floor.
"Pay $61.06/month for 18 months, interest-free with your Amazon Prime Rewards Visa Card " This is what is offered at the time of this writing.
Miele has been producing top quality machines for 120 years. It seems to be leading in the robotic vacuum cleaner field at this time.
The oh-so-quiet factor could be very meaningful for someone who works at home!
This could benefit a household with sleeping babies or napping toddlers too.
TWO – iRobot i7 + (7550) With Automatic Dirt Disposal
This is the top priced package of the i7's, which includes an extra brush and filter. It also includes the vacuum emptying bin. The robot will empty itself at the bin dock.
With this handy dirt disposal bin, you can go for weeks without attending to this botvac. The bin bag can hold thirty disposals from the device.
This disposal action is quite loud, like a hand dryer unit, but I'm sure it's worth the high level of convenience infrequent attendance!
On its first use, the i7 will map your home.
You can use voice commands to instruct the machine, with Alexa or the Google Assistant.
The programming options to label rooms, set groups of rooms to be cleaned, separate rooms, or the entire floor of your home, will give you customized vacuuming choices.
Each cleaning area can be set for a specific time.
The i7 will navigate under curtain edges, bed ruffles and couch skirts.
Handy Replacement Kit For i7 and i7 +
THREE – Neato Robotics D7 Connected Laser Guided Smart Robot Vacuum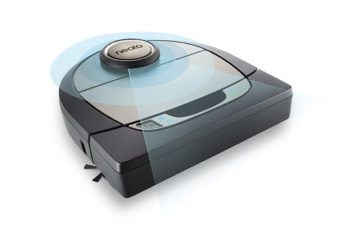 Wouldn't you love a robotic vacuum cleaner that scans and maps out your entire house?
That cleans in the dark? (Laser technology)
That moves in a grid of straight lines instead of just bumping into walls and bouncing off somewhere?
Get In The Zone
Zone cleaning is one of its smarts.
This botvac is known for good speed – very handy for last minute cleaning jobs!
You can program up to three maps, for each story of your house.
You can program in "avoid" places. We all have a few corners that we kind of have to personally manage, right?
Don't you love knowing this vacuum can pick up 99% of dust (and dust mites?). If there are allergies in the family, this is especially important. We don't see the dust that flies around with every step we take, do we?
We run fans, the heating,  or the A/C and we don't see the dust that rises and floats around. And guess what filters it? Our lungs!
A big plus is that the D-shape allows it to navigate into corners that those round botvacs get bumped off! This improves cleaning along baseboards or the edges of cabinets and other floor reaching  furniture.
Here are two videos to help you connect your device to your phone.
How to Connect your Neato Botvac Connected to your iOS Device
How to Connect your Neato Botvac To Your Android Device
FOUR –

iRobot Roomba 960 Robot
W-ifi connected mapping

Works with Alexa

99% of dust and pet allergens filtered
Despite a couple of unhappy consumers with extreme pet hair loads, this unit gets 4.1 stars from over eighteen hundred customers. 
Every vacuum cleaner with a clean filter is an air cleaner. And that matters, right?
FIVE – 

Roborock S5 Robotic Vacuum and Mop Cleaner
I really like non-black objects. They don't look so good in my place and I only get black things when I have to. So many products in electronics only come in black. But that's just me.
Many people buy for decor as well as technology, including me). And I know I'm not alone. But back to the basics – why get this thing anyway?
Well, how long does it take you to vacuum your entire house? Seriously…carrying a vacuum upstairs, or down a short four inch step to the next room…You don't need to be straining your back after the nine-to-five job!
If you are a working woman/man, or parent – give yourself a break!
The robot to sort and do your laundry hasn't been invented yet, has it? You'll never be lacking for house work to do!
Okay, it's a bit of an expense but you don't blink before you buy that new $700.00 smart phone, right?
So now that you have the smart phone, buy your robot vacuum, get the App and go!
The Roborock can mop and wipe, leaving no water streaks. Perfect for your tile floors.
It can crawl over small rises, up to 2cm, or about 3/4 in. It will move easily from hard floors to most carpets.
Regarding all the robot vacuums, reviewers often note that they have problems with some area rugs. Is this because the rugs slide, or have thick fringes? I'm not sure.
"Smart APP control: use the Mi Home App for scheduling, map saving, setting no-go zoned& barrier tape, zoned cleaning, spot cleaning, direction control, real-time monitor and customization. " – Amazon
The video below is a good demo on how this device can be best used.
SIX Xiaomi Mijia
This machine has:
Remote activation with Mi Home App

Adjustable brushes for all surfaces

2.5 hours cleaning from a full charge

One year warranty

Replaceable rollers and Hepa filters (for over the years of use)

Includes a cleaning tool to get pet hair off the main brush
SEVEN iRobot Roomba 890 Robot Vacuum-Wi-Fi Connectivity
Wi-Fi Connectivity with the iRobot HOME App


Connects with Alexa and Google Assistant for voice activation

Edge-Sweeping Brush and heavy particle sensors


Auto-Adjust Cleaning Head

Works on Carpets and Hard Floors

90 minutes of cleaning before it docks to recharge
Over 3500 reviews give this model a 4.1 star rating. Emphasis is on the very satisfactory results of picking up pet hair. Note that the dust bin may have to be emptied more often for heavy pet hair loads, which makes sense, right?
One happy customer says her 2.5 hours a week spent floor cleaning is now reduced to 1-15 minutes!
EIGHT eufy BoostIQ RoboVac 11S (Slim)
This vacuum is a real work horse and it is quiet. It is slim, light, and automatically adjusts its suction power as needed.

It comes up as a customer favorite for price and great results. It merits 4.4 stars from over 4000 purchasers!
NINE –

ILIFE V8s Robotic Mop&Vacuum Cleaner


Customers who had earlier models of this vacuum praise the upgrades. It is a less expensive robot cleaner, but still gets good reviews for:
Ease of popping out brush and removing longer hairs (human)

Large dust bin, low maintenance

Good battery life after one year's use
This machine also mops and is recommended for homes with large wood/tile areas. It does not have a middle brush for cleaning carpets. Yet, purchasers don't complain about its carpet cleaning results.
The manufacturers do NOT recommend it for thicker carpets or thick area rugs.
TEN –

ILIFE A4s Robot Vacuum Cleaner with Max Power
Under $160.00, and under 6 pounds, this vacuum gets great reviews – 4.1 stars from over 2600 customers.
There is no wifi connectivity. Its merits include a strong engine and good for getting up pet hair.
One OCD (self-appointed) individual with four kids and pets, says it is the best robot vacuum his household has used. The brush needs to be cleaned weekly for best results.
Still, that is easier than coming home and hand vacuuming the house two to three times a week, right? This gentleman has a stay at home wife but he shares the floor cleaning…So…
Best Online Shopping Guide is a participant in the Amazon Services LLC Associates Program, an affiliate advertising program designed to provide a means for sites to earn advertising fees by advertising and linking to Amazon.com. As an Amazon Associate I earn from qualifying purchases.
For History Buffs – Vacuum Cleaner History
The first vacuum cleaners used bellows to blow dust into collector bags. They were developed in the 1860s. Motorized designs hit the markets at the turn of the 20th century, achieving commercial success in the first decade.
In 1860 Daniel Hess of West Union, Iowa designed a carpet sweeper with a rotating brush to capture the dust. A bellows created the suction.
An 1869 model, the "Whirlwind", was invented in Chicago in 1868 by Ives W. McGaffey. It was a bulky hand cranked machine that was difficult to operate, yet it achieved some commercial success. [
In 1876 A similar cleaner was constructed by Melville R. Bissell of Grand Rapids, Michigan, whose company also manufactured carpet sweepers. Bissell remains a popular name, today.
Powered Vacuum Cleaners – Delivered To Your Door
In 1898 John S. Thurman of St. Louis, Missouri submitted a patent (US No. 634,042) for a "pneumatic carpet renovator". This machine was to blow dust into a receptacle.
Cleaning services would bring such machines to their customers' residences on a horse-drawn wagon as part of a door to door house cleaning convenience.
In 1901 American inventor David T. Kenney designed an elaborate 4,000 lb. steam engine driven system equipped with pipes and hoses inserted into all parts of a home or building.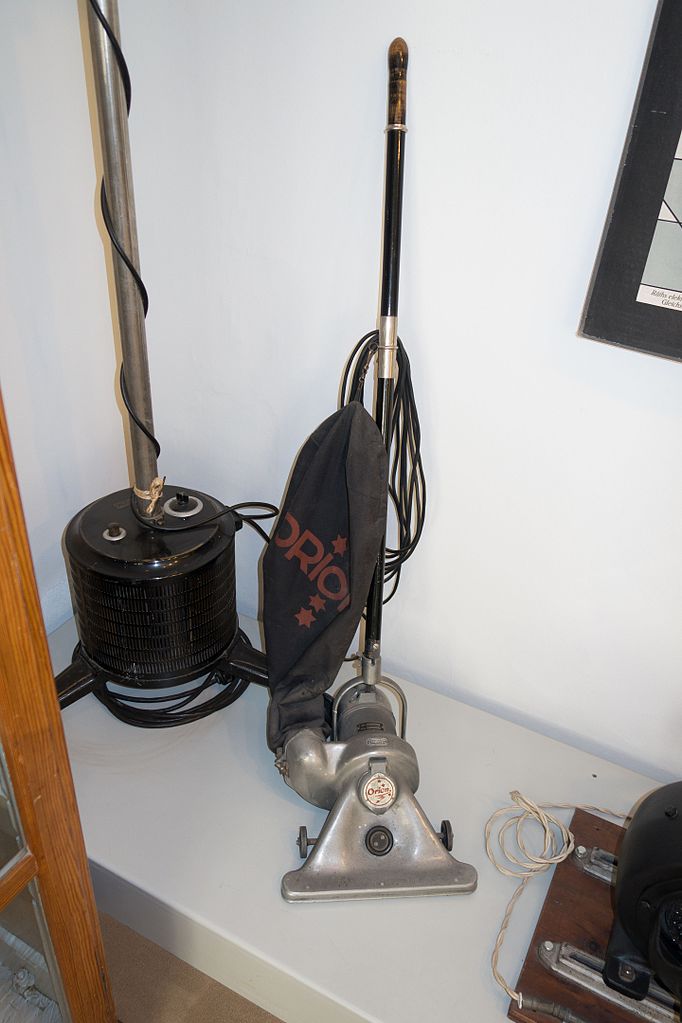 The first portable vacuum cleaner aimed at the domestic market was designed in 1905 by Walter Griffiths.
Of note, in 1906 James B. Kirby created his first of a continuing line of vacuums. His "Domestic Cyclone" used water as a dirt filter.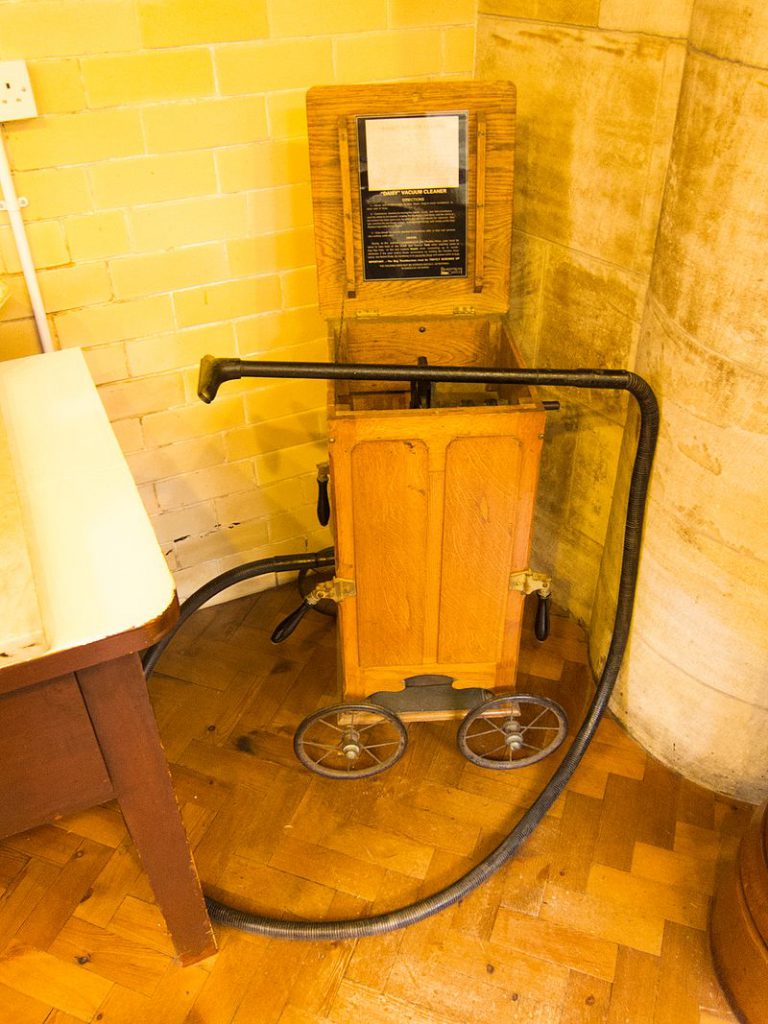 Other early portable vacuum cleaner developers were William Henry Hoover in America and Electrolux in Sweden.
Hoover, Kirby, Bissell and Electrolux are names that we know well today.
Fast forward to 1997. Electrolux of Sweden presented the Electrolux Trilobite, the first cordless robotic vacuum cleaner, on the BBC-TV program Tomorrow' World. It appeared on the consumer market in 2001.
This vacuum cleaner history is from Wikipedia.