10 Best Outdoor Fire Pit And Table Combos For Warmth All Year 2020
Outdoor fire pit and table combos are deliciously comfy and provide you with this warm and cozy setting almost all year round. The following shows some wonderful selections with different sizes, to suit your deck or patio.
This page contains amazon affiliate marketing links. We may get paid a commission on the sale of a product or service recommended here. This does not change your price, you pay what Amazon advertises.

The fire pits come in square, rectangular and round shapes, to fit the patio furniture you already have, or ones you'd like to buy for your relaxation and entertainment area.
Best Online Shopping Guide is a participant in the Amazon Services LLC Associates Program, an affiliate advertising program designed to provide a means for sites to earn advertising fees by advertising and linking (

AL= Ad Link

) to Amazon.com. As an Amazon Associate I earn from qualifying purchases.
Outdoor Great Room Uptown Crystal Fire Pit Table with Tile Top and Rectangular Burner, Brown
AL
There are some great pros for choosing this beautiful and stylish fire pit table.
The size of the fire pit –  12 x 42 inch Crystal Fire Burner
The materials – Brown Stucco Base with Brown Supercast Concrete Top
Fuel options – Propane (LP) Ready; Natural Gas conversion kit included; 88,000 BTU
Pit contents –

Includes 16 pounds of Diamond colored fire glass; Push Button Igniter

Designed with Propane Tank Storage neatly placed underneath, accessible

Rectangular shape and gorgeous size – 24 x 48 x 65 inches
What a wonderful way to get the most benefits from your property. Spend many evenings in all but the coldest of weather enjoying food, conversation and relaxation.
Even in hot areas like the desert regions, it can be quite chilly after sundown. Your family and guests will be cozy and relaxed in the warmth and glow of your generous and welcoming space that you can create with this fire pit and table combination.
It can be placed on a wooden deck.
The flame length is adjustable.
You should plan on two people to get this unit assembled.
The glass guard accessory:
AL
The Outdoor GreatRoom Company Kenwood Linear Dining Height GAS Fire Pit Table (KW-1242-K) with Glass Wind Guard (1242)
AL
The excellent pros with this product:
This contemporary design fire table with well-crafted materials – a brown composite chat height decking top and base with grey powder coated aluminum construction to provide longevity.
The elevated design of the UL listed, 100,500 BTU rated 12 x 42-inch stainless steel gas burner results in less heat transfer – the temperature of your drinks and food are less affected
This large comfortable dining size fire table includes a grey glass burner cover
Provides an easy access door for the 20 pound propane tank storage.

Built with a handy push button spark ignition system along with simple and convenient controls while lighting the unit

The manual control valve allows variable flame height

Diamond fire beads are included

Standard 20 pound propane tank connections and fittings are included

Natural gas conversion included, also allows use for natural gas applications
Matching pieces for this table:
AL
AL
You have a beautiful wood-crafted look of a dining set with all these pieces. Two benches, one on either side, could be completed with high backed and cushioned chairs at the short sides of the table.
You could also cushion the benches for comfort. There are many options for style and color designs to stir your imagination. Patio cushions come in many shades and patterns, and also in weather resistant materials.
See "Patio Furniture Cover Fabric Information" by Justin Forman here.
Elementi Granville Fire Table Cast Concrete Natural Gas Fire Table, Outdoor Fire Pit Fire Table/Patio Furniture, 45,000 BTU Auto-Ignition, Stainless Steel Burner, Lava Rock Included
AL
This neutral colored table will go with any color of patio furniture be it brown or grey rattan, aluminum, or wooden chairs and benches. Patio cushions will enhance your color preferences and liven up your relaxing space.
Features:
Designed for Natural Gas only

Material: High Performance Cast Concrete.

Size: 60″ x 27″ x 17″. Propane tank should be placed outside of the Table with a pre-attached 10 ft Hose with Regulator.

Max. Heat Output: 45,000 BTU Auto-ignition. 13.2 lbs Lava Rock and Canvas Cover is included

Certification: CSA & CE Certified
Customers rate this product for being great looking and functioning well. They love the modern look of the concrete.
You have five feet of table length to surround with comfortable chairs or benches. What a great space to offer your family and guests, for deep relaxation and good times!
Oriflamme Gas Fire Table Propane 75,000 BTU Heat Output, Round Square Octagon (Blue Pearl Granite, 48″ Round)
AL
This beautiful and classy looking polished granite top fire pit table has the following features:
It contains 2 propane tanks inside the table for twice the burn time of any gas fire table.
If you prefer natural gas you can convert it with Oriflamme natural gas kit.
Unique Oriflamme Burner System – burns throughout vs small ring
High 75,000 BTU heat output – with high to low controls on side of table
Includes, hidden bottle opener, premium reflective fire glass

The heavy metal lid is included
The granite is typically heavy, so have two people ready to install this kit.
Outdoor Great Room GS-1224-BRN-K Grandstone Fire Pit Napa Valley, Brown
AL
Made In The USA, this beautiful table has a granite top.
The propane tank is easily accessible. 
A burner cover or glass wind barrier can be ordered separately.
The top can be removed for storage in winter months, but a good cover will protect is just fine.
Can you picture this gorgeous table on your deck or lanai?
POLYWOOD Round 48″ Fire Pit Table (Mahogany)
AL
This round table comes in six colors.
Included in the kit:
Glass wind barrier

Table cover

Access door for propane tank
Since this table is polywood (not real wood) the glass wind barrier must be used to protect the material. It is also a good item to have anyway, especially if you have small children.
With the color options, this table will match any patio furniture set. It comes in white, mahogany, dark forest green, sand, slate grey, teak, and black. 
All Backyard Fun Oriflamme Fire Pit Table Gas Fire Pit 38″ Tuscan
AL
The dark base and oatmeal colored top give this its Tuscan quality, like the stucco and pale stone houses in Tuscany, with their dark stone accents.
This design can offset a dark or lighter colored patio furniture grouping, with your choice of patio cushions for your personal flare and enjoyment. 
It's beautiful features are:
A coffee table height at 20″

75,000 BTUs of cozy heat!

Includes a beautiful metal lid.

The 20 lb EXCHANGEABLE propane tank is concealed within the base (purchased separately)

The powder-coated base, metal lid and burner ring is weather and especially moisture resistant – will look good for years

The quartz-contrete overlay composition is designed for all weather durability
AKOYA Outdoor Essentials 60″ Rectangular Modern Concrete Fire Pit Table w/Glass Guard and Crystals in Gray (Emerald Green)
AL
This pale concrete colored table will match any shade of patio furniture and your colorful accessories.
Choose your color of glass fire pit gems!
This 60″ sleek rectangular fiber concrete unit comes with:
Glass Guard

Fire Reflective Crystals – 30 pounds

A protective cover

Burner lid

Burn time of 10 hours (high setting) or 28 hours (low setting)

Electronic ignition

Lightweight fiber concrete and steel that is tinted to the weather resistant finish color for increased outdoor longevity

A  CURBSIDE DELIVERY WITH SIGNATURE REQUIRED
Have some help handy to install this unit in your outdoor relaxation space. 
AL
This tank holder can be used as an end table, placed for your design and convenience.
Elizabeth Cast Aluminum Powder Coated Double burner Bar table – Antique Bronze
AL
This bronze patina looks like it would weigh a ton! 40″ high, and seating up to eight, it is a 5 stage powdered finish aluminum. It weighs 200 pounds, with both burners.
It has a 15 year limited warranty on the frame!
The 100% rust proof guarantee makes this one a winner. Look at this beautiful design work!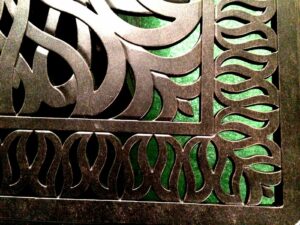 If your house and garden has a traditional look, or you want to accent a non-ornamental setting with some class, this is perfect!
Drinks and snacks are an ideal way to lounge around this bar for hours. With warmth from the two burners, you can enjoy conversation well into the night.
In warmer weather, you can spend days and evenings at your beautiful table – no need for the burners!
AL
This set of 6 matching swivel bar stools is sold separately.
Add an end table or two to hold your carafes, candles or solar lanterns:
AL
CLICK HERE to see this beautiful design in dining table height.
Another choice in this beautiful design is a square table with 4 dining chairs and 4 swivel rocking chairs.
AL
You may be thinking this is a favorite of mine, and you're right! For an outdoor dining room, with the bar top table and a dining set – this is a real extension of your home and creates an elegant entertaining space.
iPatio Sparta 52 Inch Chat Height Gas Firepit Table with Doors for Outdoor Use
AL
The Sparta chat height Gas Fire Pit Table Collection is an attractive new presentation of a classic style. The unique top sits upon the durable powder-coated finish.

Chat height table naturally draws your family and  guests to gather around the fire and relax with food and drinks.

The frame is heavy cast aluminum with a weather-resistant powder-coated finish which is chip and fade-resistant.
Versatility and portability meet beauty and classic styling with the Sparta Collection. Its rich finish, unique style and lattice-patterned design top and standard features are sure to be the perfect fit for any outdoor space.

Made from rust-resistant cast aluminum for lightweight mobility and built to withstand the outdoor elements for years to come, has a rich powder coated finish and heats up to 40,000 BTUs.

This fire table comes into a functional dining table top (covering the fire) for entertaining.

Includes 22 pounds of glass beads

Adjustable low/medium/high flame size
Surround this table with candle or solar lanterns, decorated to match the traditional look, and you have an enchanted garden area to increase your use of your yard.
In The Early Planning Stages?
Are you in the early planning stage for an outdoor entertainment area? The following article may give you some help in designing your space, and purchasing the ideal products for your and your family's use. (Emphases mine).
Creating an Outdoor Entertainment Area for Your House by Shaz Mikenzy
"Nowadays, an outdoor entertainment area such as a deck, gazebo, terrace or patio has become one of the things that many homeowners make sure that they have because of the countless benefits that it offers. An outdoor entertainment area is generally described as an outdoor space or an outdoor extension of the floor area of a house which is intended to be used as an additional living space. Here are some of the benefits that outdoor entertainment spaces offer.
1. They provide an area where you can hang out with your family and friends on both sunny days and not-so-sunny days, as they allow you to enjoy the feeling of being outdoors without being subjected to any of the harsh weather elements such as extreme heat and rain.
2. Outdoor entertainment areas can also be used for a wide variety of purposes. They can be used as a place where you can: relax after a stressful day at work; entertain friends and family; and have formal and informal dinners. You can also use them for parties and other special events as they outdoor entertainment spaces can usually easily be decorated.
3. If you have young children, you can also set up their swing or slide sets in your patio or gazebo. Your kids would surely enjoy playing with their toys outdoors without you having to worry about them getting burnt by the harmful rays of the sun or being drenched in the rain.
4. You can also use your outdoor entertainment area as a place where you can do your yoga and meditation. You can have it decorated with candles, mats and other yoga equipment and you would have a yoga studio right in your own backyard.
5. They also serve as a wonderful accent to your outdoor area. For instance, if you have a large garden or backyard, having a gazebo or deck could automatically enhance its appearance and ambiance, especially if you would be choosing furniture that would complement or accentuate the existing style of your home.
These are just some of the advantages of having an outdoor entertainment space can offer. It is important, however, that if you are planning to set up one in your home, you would be making sure that you have done your research and shopping around. The reason for this is because of the wide array of choices you have for building an outdoor entertainment space, you might be choosing some which might not be the best for you and your needs. Here are a couple of tips that may be able to help you out.
1. Make sure to conduct your research on which materials would be best for your outdoor living space. There are a lot of material options which are available in the market today and you need to be careful in choosing which ones you would be using. Some of the most advisable pieces to use would be rust-resistant tables and chairs, mildew-resistant cushions and other durable furniture pieces that are not only stylish but are also able to withstand sun, rain and other harsh outdoor elements. Although such pieces would be on the more expensive side, they are good investments that would allow you to enjoy your outdoor entertainment space for many years.
2. You could also consider having your patio or deck screened-in, especially if you have a bug problem to make sure that hanging out in your outdoor living space would be comfortable.
3. If you intend to use your outdoor entertainment area for entertaining people during parties and other gatherings, it would be advisable to set it up near the part of your house where you keep food and beverages. You could also set up a small kitchen or pantry on your deck or patio to make it even easier and more convenient to serve food and drinks during special events when you have guests over. Aside from this, you can also have a restroom built so that your guests would not have to go inside your house anymore to go to the restroom if they need to.
4. Aside from decorating the outdoor entertainment space you have with furnishings that complement your style, you can also consider making your garden or yard more aesthetically pleasing. By planting some fruit trees and flowering plants, you would be able to create shade and a beautiful view for you, your family and your guests to enjoy.
Shaz has written hundreds of articles online for almost 3 years. Not only does this author specialize in Home Improvement, you can also check out his latest website on Storage Cubes Furniture [http://ministoragebuildings.net/] which reviews and lists Stackable Storage Cubes [http://ministoragebuildings.net/Mini-Storage-Unit.html] for great way to make some money without having to do so much, and you are basically being a landlord without having to deal with any pesky complaints about noisy parties and the like."
Please note that the author's links were un-linked at the publication source.
Related material: