10 Best Brand Artificial Christmas Trees 2022
Photo by The Author
Most of the best brand artificial Christmas trees for sale in this article come with lights on them.
Realistic Christmas trees with lights are very popular for various reasons. 
This page contains amazon affiliate marketing links. We may get paid a commission on the sale of a product or service recommended here.This does not change your price, you pay what Amazon advertises.
What do the best brand artificial Christmas trees have in common?
Benefits
Benefits of artificial Christmas trees:
One time cost – choose exactly what you want to spend and next – no tree expense!
Easy to put up and take down
Safer – fire retardant material, don't need watering to be safe
Hypoallergenic – no molds or fungi will build up on the structure
May come with lights installed – easy to decorate
Saves natural resources – our forests absorb carbon which we need now more than ever
The top brand artificial Christmas trees come in a wide variety of heights and shapes.
Here is a fascinating video showing how artificial Christmas trees are made.
A slim, or "pencil" shaped tree is suitable for small spaces. You can get them in as small as a 30″ diameter, yet they are realistic and beautifully shaped.
Be aware that most of the trees below are depicted in their tallest heights and therefore highest prices, but when you click over to Amazon from the image, you will see several choices of height, with matching prices.
I have had an artificial Christmas tree since 1994. I could afford a much better and bigger one now, but I have so many precious memories with that tree I bought in a drug store, in a year when I didn't even know if I could pull off any kind of holiday celebration.
This tree cost me $24.95, on sale just a few days before Christmas. I had been forced to move into a tiny space and this tree was placed on the dining table.
It does not have realistic "needle feel" but does have hinged branches. It is easy to store and thus has lasted over 20 years without damage. (Plus, hooked branches are more work to put up).
My tree lost a leg somewhere around 2006, but my clever partner made another one, over the stove flame, from a plastic clothes hanger.
Best Online Shopping Guide is a participant in the Amazon Services LLC Associates Program, an affiliate advertising program designed to provide a means for sites to earn advertising fees by advertising and linking (AL= Ad Link) to Amazon.com. As an Amazon Associate I earn from qualifying purchases.
Note that, you don't get that wonderful fresh fir tree smell with a fake tree, so you can buy a wreath to hang,  or a small candle surround made of your favorite tree branches. Or you can get these, and choose from seven scents.
AL
You may prefer essential oil scented soy candles, if you are sensitive to chemicals.
AL
Now Take A Look At The Best Brand Artificial Christmas Trees To Buy
Flocked White Spruce Full Pre-lit Christmas Tree
AL
The Vickerman company has been dedicated to pleasing its customers since 1940.
Building on a realistic Spruce tree shape, with good "needle feel", the tips flocked with white snow, this vendor has added lights (up to 3600 on the 14 foot size). (Choose Clear or White).
One of these trees will give your family happy memories for years. If you live in a region that doesn't get snow, this may be your choice.
The Warranty is 10-years on the  construction, and 5-year or 3,000 hour lights.
Vickerman Dark Fir Pre-lit Christmas Tree
AL
This is the 14 foot size. it is a blue-hued tree with blue mini lights and may perfectly enhance your home's ambiance and decor.
The magic of Christmas time is built on every year, as you add your family's decorations, old and new, creating a lasting image for you and your children. This is a precious factor, that can never be taken away.
This tree is a standard shaped dark blue fir tree, and it comes with metal base.
It has sturdy PVC tips with hinged branches – best construction
This tree is pre-lit with blue mini lights and blue wire
 The on/off foot pedal switch is super convenient
Remember, it is available in a variety of sizes. 
KING OF CHRISTMAS 15 Foot Scarlet Fir Artificial Christmas Tree Unlit Commercial Grade
AL
This is a sturdy tree and comes in three pieces, with hinged branches.
It takes a little while to set up any fake tree, pulling out the branches and preparing them for your decorations. That's part of the fun, right? Playing Christmas music in the background, or putting on a favorite old movie that maybe you watched as a child – or tolerated as your parents watched it? 😀
The lower branches are 11″ from the floor, leaving plenty of room to tuck presents underneath.
The 15 foot height includes the metal stand. It comes in three smaller heights, which you can see when you click to Amazon. The smallest is 6.5 feet, and is priced at $299.00 at the time of this writing.
National Tree 16 Foot Tiffany Fir Slim Tree (TFSLH-160)
AL
Although described as slim, this tree has a 5 foot diameter. Customers who bought it love the height and find the "slim" depiction to be actually more of a medium width.
The branches "fluff out" well and you can't see through the tree once you have arranged it as you like. Enjoy your preparation work with good company and some eggnog with rum, or rum flavor, right?
You will need a ladder for decorating the top branches!
Customers note that the branches are a little uneven, and more natural looking because of that.
National Tree 16 Foot North Valley Spruce Tree (NRV7-500-160)
AL
This tree comes in ten sizes. It is not pre lit.
It is a popular tree with over 800 reviews. It is noted to be fairly light weight (meaning the four pieces), fast to get up out of the box (two minutes) and easy for one reviewer with little lifting strength.
Unlike a real tree, the fluffing of the branches takes up to two hours. Put on that favorite playlist and dance around your tree! Get those kids helping!
Enjoy your mulled cider or spiced wine while you get your decorations out of their boxes and put them up on your beautiful tree.
It is a special time each year, to get your traditional holiday decorations up, and feel the meaning of the season.  Doing so evokes memories of past Christmases, doesn't it?
Do you have a collection of ornaments you received from people who have passed on? I do, and they are very special. It's a sweet sadness to remember folks who were treasures in our life.
9 ft. Splendor Spruce EZ Power Artificial Christmas Tree with 780 42-Function LED Lights and Remote Control
AL
Choose the colors and functions of the 780 lights by remote. You have eight colors (white, multi, red, green, blue, yellow, purple and amber) and seven functions (steady, twinkle, firefly, pulsating, slow fade, flash and color changing).
This is done with a remote – lounge in your favorite chair and change your lights to fit the needs of the room. For example, if you turn on the television, you may want to adjust the lights.
This tree is for indoors only.
If any bulbs come loose or burn out, the rest of the lights will remain lit.
An on/off foot pedal switch is included.
The branches will spring into position – no fluffing time!
Red Sleigh Noble Fir Artificial Christmas Tree Pre-lit Christmas Tree, Full (1200 Warm White LED Lights, 9′)
AL
This tree comes in three sizes, and the largest is shown here.
While writing about trees, I suddenly remembered those old fashioned tree lights that bubbled hot oil in glass tubes. Anyone ever see pictures of those? (You can get them now, on Amazon).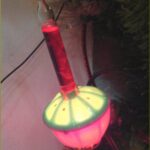 Features of this tree:
9 foot tall, Noble Fir

Pre-lit

69" wide

1200 warm white LED lights

4,277 tip count

Red Sleigh's unique TruTip technology

Needles that appear amazingly real from tip to branch

Fully hinged branches that move into place for easy setup and fold down for storage

Strong metal stand comes with tree

Long-lasting and energy efficient 5 mm LED mini lights , manufactured with a concave lens that results in a beautiful halo of light

LED bulbs burn cool – no worry about kids touching them

If one goes out the entire string does not go dark

Purchase comes with a 10 year tree warranty; 3 year light warranty
Foxtail Pine Christmas Tree with Clear Smart Lights and EZ Connect, 12
AL
This pretty tree comes in three sizes and five varieties of lights to select.
Click over to Amazon to see each choice.
The image above shows the  12 foot version with a 99 in. diameter
The lifelike foliage with slightly uneven branch lengths is natural looking and is painted with several shades of green.
It comes strung with string lighting of the selection you prefer.
It is made with 6684 tips total. The tree needles are constructed out of non-allergenic and flame-retardant materials. (A standard for fake Christmas trees in general).
Each bulb variety has a 2000 count.
The branches are easily unhinged to begin your holiday season enchantment!
A garden center owner highly recommends this choice for being natural looking.
One reviewer said the needles are a little prickly – that's truly natural!
National Tree 14 Foot Dunhill Fir Tree, Hinged (DUH-140), 14′
AL
This gorgeous and dense tree comes in ten sizes! Pick the exact height and price that you want.
The 14 footer depicted above has 10874 branch tips.
Almost one thousand happy customers give 4.5 Stars to this super natural looking tree.
A sturdy stand comes with this tree.
It does not come with lights, which some buyers seem to prefer.
CLICK HERE to see a whole Amazon page of Christmas tree light selections.
AL
Northlight NL03198 Clear Lights Artificial Full Christmas Tree, 7.5′
AL
This beautiful 7.5 foot hunter fir artificial Christmas tree is enhanced with tiny pine cones for that extra holiday season touch..
It comes pre-lit with 850 mini clear lights.
A green metal tree stand is included in the package.
The vendor states:
"The dramatic Hunter Fir tree features a mix of molded PE tips with traditional PVC tips. The molded PE creates a realistic Christmas tree while the PVC creates a fuller tree is sprinkled with life-like burr cones adding further realism to this hyper-realistic tree."
(Emphasis mine).
If you would like to gain more awareness about artificial Christmas trees, enjoy this following article.
Artificial Christmas Trees – A Guide by Steven Butler
"This article was written with the intention of helping the reader develop knowledge on Artificial Christmas trees. It's worth mentioning early that modern artificial trees can last upwards of ten years, if looked after in the correct way; so it is well worth reading on to find out what type of Artificial Christmas trees are available, the differences between the trees that can be bought, what they are constructed of and the advantages and disadvantages and a few other hints and tips.
We will start with the two main materials that Artificial Christmas trees are produced from. The most common is PVC (PolyVinyl Chloride) also known as vinyl and the other is PE (Polyethylene), which is rapidly growing in popularity.
What is PVC? This is an everyday plastic also commonly known as vinyl. It is a lightweight and durable synthetic polymer material (or resin), formed by combining ethylene derived from petroleum, natural gas, or coal and chlorine. This plastic can be found in products ranging from milk cartons to vehicle parts. When a tree is produced from PVC the result is and attractive, but generally unrealistic looking tree when compared to the more expensive PE version.
So what does a PE tree consist of? PE artificial trees are made with very high quality plastic named Polyethylene. The tree is created and modelled from actual real Christmas tree branches. These real tree branches are used as forms to create the mould, Polyethylene is then injected directly into this mould and this helps to create a very realistic artificial Christmas tree. These trees need little of no shaping when erecting at Christmas time, they are ultra realistic, long lasting and stunningly beautiful – the next best thing to a real Christmas tree.
In general there are two ways Christmas tree manufacturers attach the branches of the trees to the central trunk of the Artificial Christmas tree; hooked and hinged. The hooked method is where you are required to attach or 'hook in' each branch into a bracket that is attached to the artificial Christmas trees trunk each time you affect the tree. Usually these branches are colour coded for ease of construction, so you know in which order you are required to erect the tree. The hook in method usually takes longer to set up and can sometime be frustrating if the colour coded tag is lost. Also with this method as the tree grows older the hook can become bent or misshaped leading to an uneven tree.
The hinged method is the quickest and easiest to assemble of the two methods. This greatly speeds up the construction of the tree each year, and lessens the stress. The branches are permanently attached to the central trunk, with you guessed it, hinges. When you take the tree out of the box the branches simply fold down into the correct position, a bit of fluffing out of the branches and you're done. And when storing the tree you simply fold them back up and store away in the box.
So know you have an idea of what material the tree you buy will consist of and how the branches will be hung on this tree, the next thing to consider is the stand. We would recommend using a solid metal stand only. When you consider that a fully decorated tree can weigh twice as much as the tree you take out of the box, then you can see a solid stand is the only way to go. Most quality Artificial PE trees come complete with a metal stand, so you may want to consider this when weighing up the cost."
Article Source in its entirety.
Related material:
10 + Best Crystal Christmas Tree Ornaments – Brands And Collectibles – 2020